History and mission
Winter Way was founded by Henrik Norman in 2017, as a response to the lack of great applications in the astronomy sector. Henrik experienced many of these problems first hand while working at the European Space Astronomy Centre, European Space Agency.
Often astronomy applications are overly complex, slow, created with old technologies, and not utilizing the power of modern software practices. The applications also have been designed with little regard to the convenience, understandability, and ease-of-use of its users.
The mission of Winter Way is to bring the astronomy sector applications into the modern era by using up-to-date software engineering practices, modern technologies and designing smart user interfaces. Powerful applications do not have to be complex, slow, and difficult to understand!
The company specializes in the development of astronomy applications which combine powerful and complex features with user-friendly interfaces.
Winter Way only hires great and disciplined developers, who want to make a difference in the international scene. Thus, we can guarantee that our service is of the highest quality.
Get in touch by using the contact form!
Winter Way is always hiring great people. Have a look at our open positions or use this form to convince us to hire you!
Current customers include the European Space Agency, NASA Astrophysics Data System & the American Astronomical Society, where we develop, among other things, the popular applications ESASky, and AAS WorldWide Telescope.
Meet the team
Henrik founded Winter Way to bring powerful user-friendly applications to the astronomy sector. He specializes in software running in the user's browser with a focus on UX, 3D programming, JavaScript, WebAssembly, and python (Jupyter).
Mattias joined Winter Way in 2019 and has since had the opportunity to work with both the European Space Agency on ESASky and the Sloan foundation funded project Asclepias. Mattias specializes in data ingestion and all things web.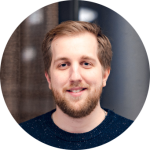 Philip Matsson
Software Engineer
Philip joined Winter Way in 2021 and has experience with several technology stacks and industries. He has especially strong knowledge of backend development, databases and has a passion for maintainable code and great UX.
Elena Puga
Astrophysicist
Elena has been working at the intersection of instrumentation, archive science and user community support for ESA and NASA missions. Her observational experience helps to bridge the gap between software tool development and science exploitation, ensuring that the end-user is kept at the centre of the science data content ingestion and publication. She is also a Python coding enthusiast.
Alexandros Marantos
Software Engineer
Alexandros recently joined Winter Way and is experienced in both frontend and backend development. He also has extensive experience in data manipulation and machine learning algorithms. In addition, Alexandros is passionate about creating smart solutions to complex programming problems.